Spark's debut at IMEX Frankfurt 2023 marked the start of a transformative journey in event planning. Since then, we've been on a relentless quest of continuously refining Spark, driven by your insightful feedback. Today, we're thrilled to usher you into the next chapter of this journey.
Upgrade Highlights – Enhancements Inspired by You
Your voice has been instrumental in shaping our upgrades. Let's dive into each feature you've helped us enhance:
Video Repurposing Revolution: The 'Repurpose' feature is now turbocharged to handle videos of any length. Imagine turning an hour-long keynote speech into a series of insightful LinkedIn posts, a captivating blog, or even a succinct email newsletter. With Spark, the possibilities are endless!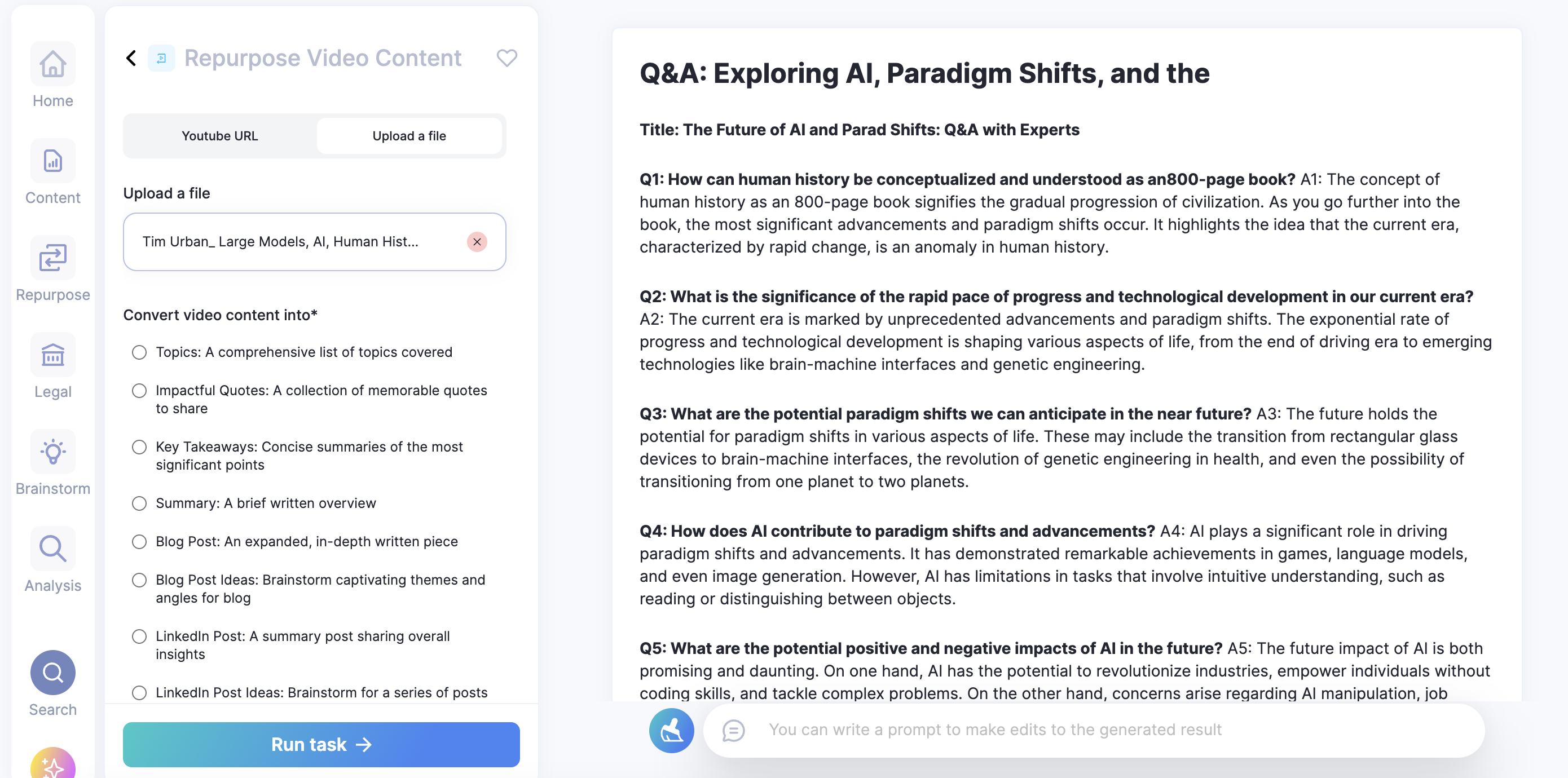 Global Language Support: As event professionals, your impact spans borders. Spark now supports Spanish, French, Italian, Portuguese, and German, enabling you to create and repurpose content that resonates with your diverse audience.
Quality Control: We've amplified your control over the generated content. If the output doesn't meet your vision, you can now stop the generation and refine the content until it's perfect.
Innovation Unleashed – New Features
Alongside refining existing features, we've also been innovating. Here are the new tasks designed to stir up your creativity and streamline your planning process:
Script Generation: Crafting compelling video scripts or engaging session topics can consume significant time. But no more! With Spark's new script generation feature, you can focus on bringing the big picture to life as we handle the minute details.
Feedback Analysis: It's now easier than ever to understand your attendees and refine your events. Our new feedback analysis feature lets you distill actionable insights from attendee feedback, leading to superior event experiences.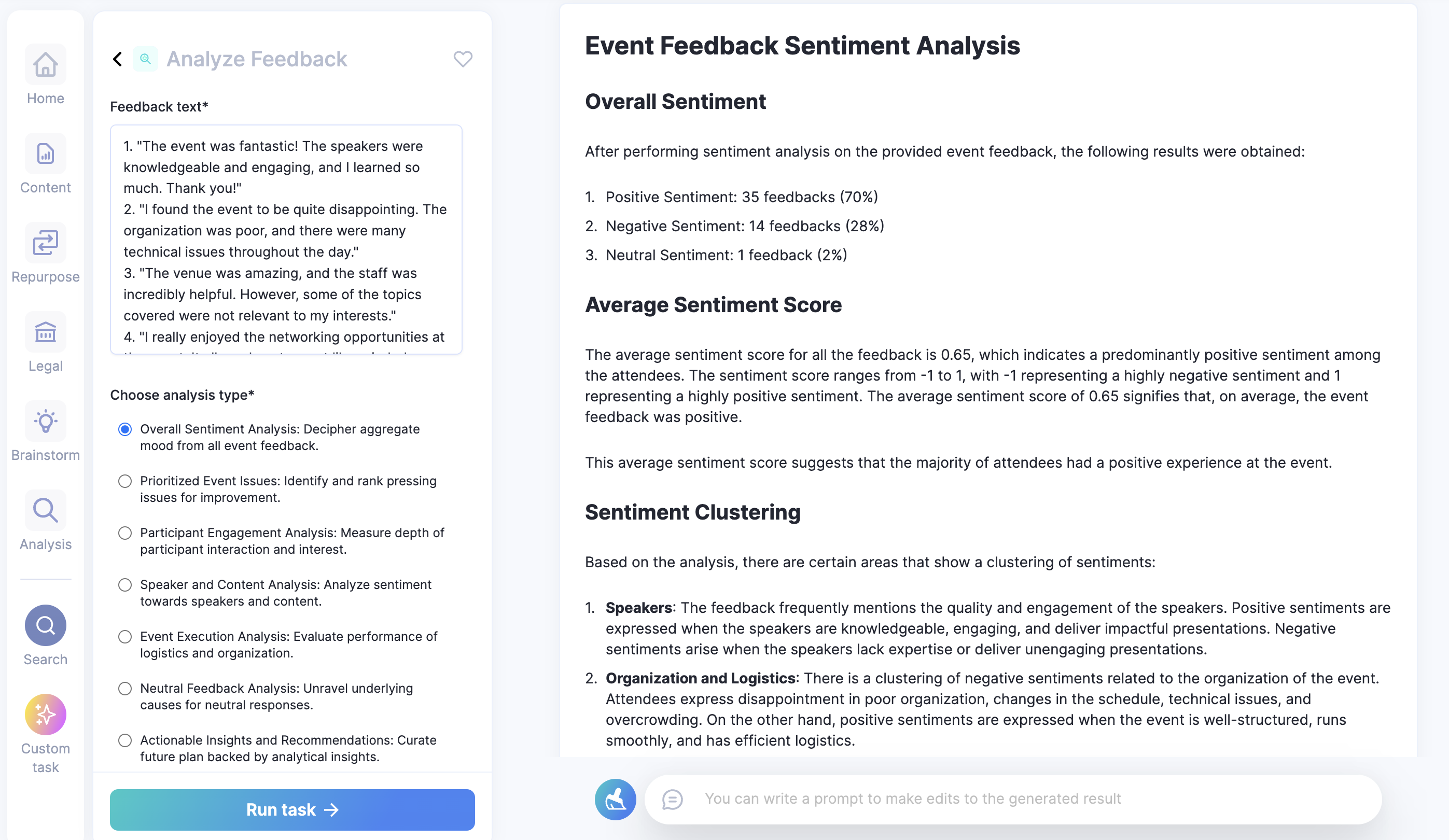 Brainstorming and Content Repurposing: Get out of the creativity rut with Spark! Be it fresh gift ideas, unique session topics, or leveraging your web content, Spark is ready to fire up your imagination and ensure each piece of content achieves its maximum potential.
Synthesizing Video: Make the most of your video content with our new synthesis feature. Extract powerful quotes, glean ideas for upcoming events, and organize your thoughts more efficiently. This feature can dissect your videos, providing you with a rich array of content options to use across your event planning process.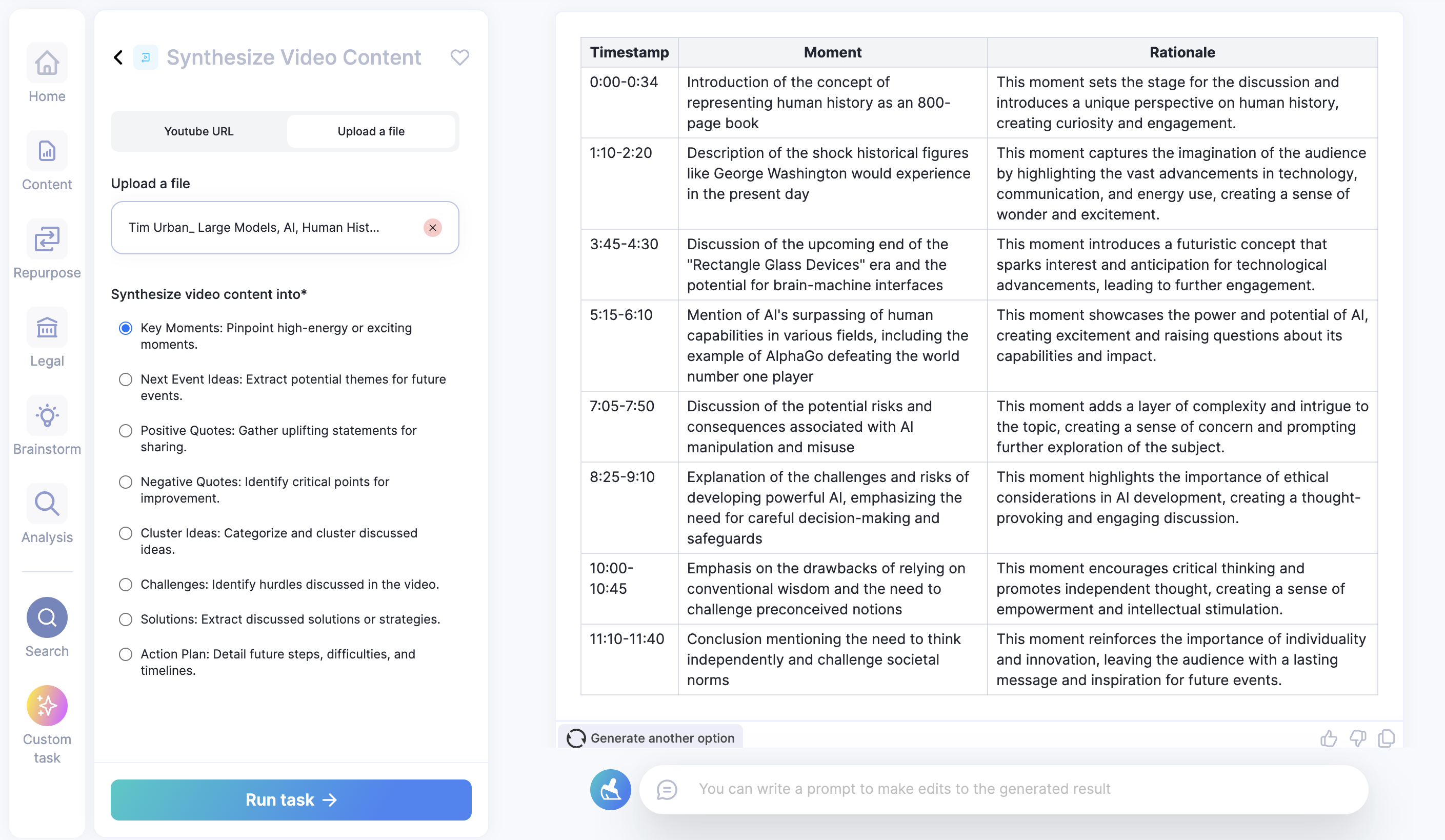 The Spark Difference: Elevating Your Event Planning
More than just a tool, the enhanced Spark is your trusted companion in crafting memorable event experiences. It's designed to free up your time, provide deep insights, and spark your creativity, enabling you to focus on what truly matters – delivering unforgettable events. We invite you to step into the future of event planning with Spark and experience how it seamlessly integrates into your workflow. With Spark, you're not just planning and executing events; you're creating experiences that resonate. Are you ready to ignite exceptional event experiences with Spark? We're eager to embark on this exciting journey with you.