Three months ago, we launched Spark to the world with a clear mission: to craft an AI tool exclusively for event professionals, by those in the same field. The feedback from our active event community was overwhelming. Today, we're thrilled to roll out upgrades and features inspired by your insights.
Spark Enterprise: Secure, Scalable, and Tailored for Your Organization
Spark Enterprise goes beyond a version upgrade. It underscores our dedication to data security, organizational scalability, and user management.
1. Enterprise-Grade Security
Prioritizing your data security, Spark Enterprise offers:
Secure File Uploads

: Upload your files with confidence, backed by our robust encryption protocols.


Data Encryption

: Featuring AES 256-bit encryption at rest and TLS 1.2+ in transit, your data remains in a digital fortress.

Certifications

: We've achieved ISO 27001 and SOC 2 Certifications, evidence of our rigorous data protection measures.

Your Data, Your Control

: The data you input into Spark remains yours—never used for AI training, inaccessible to our team, and never shared.
2. Extended File Support
Break free from format constraints. Spark now supports numerous file types, ensuring your content is understood and processed, no matter its format.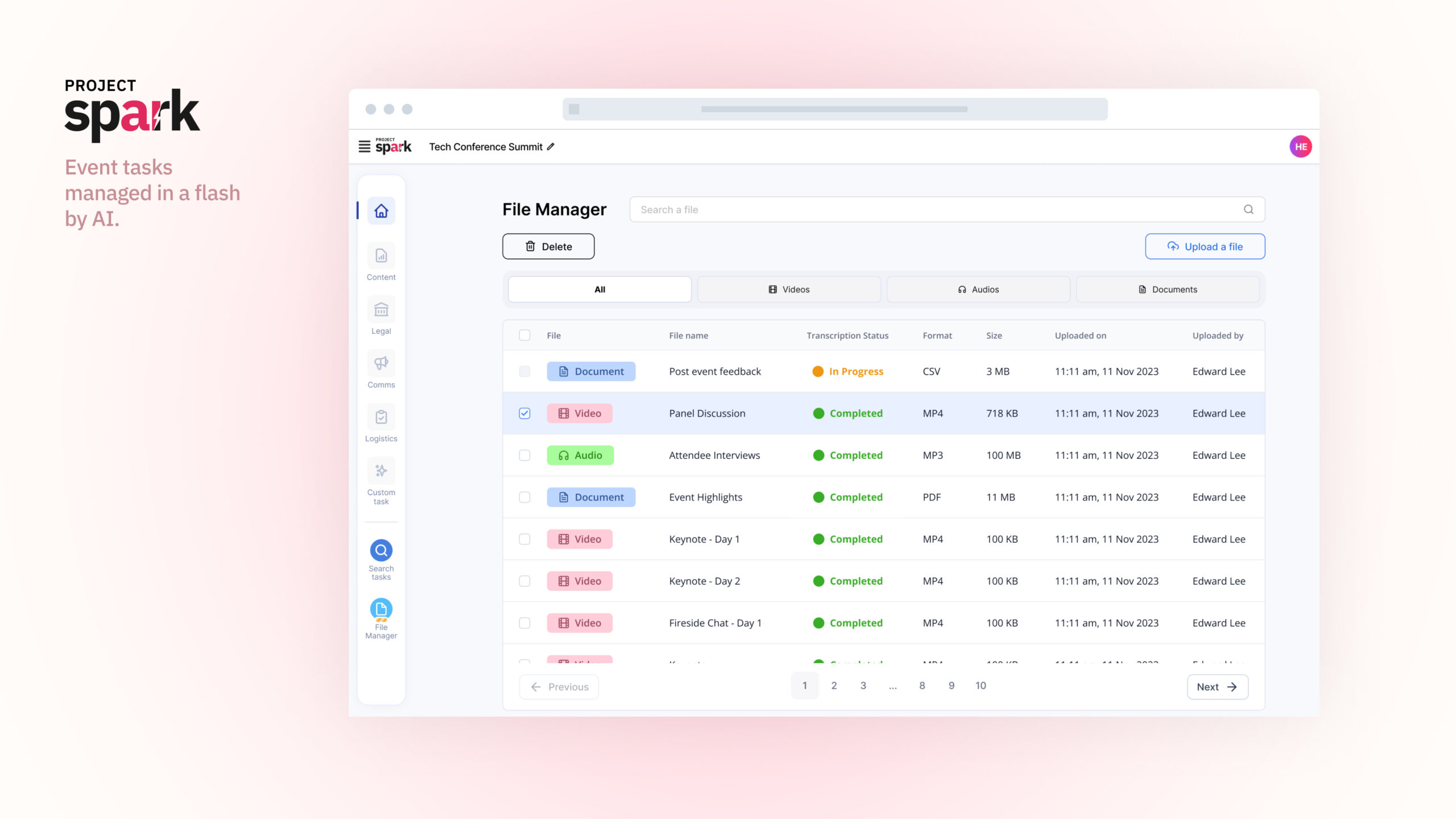 3. Enhanced User and Organization Management
Invite Your Team

: Seamlessly bring team members into your Spark organization.

Single Sign-On (SSO)

: Streamline your login process and boost security with SSO.
Repurpose 2.0: Amplify Your Content's Potential
Repurpose 2.0 is designed to amplify the value of your content, opening up new possibilities for its transformation.
1. Repurpose into Blogs
Your events—seminars, interactions, and more—hold untapped potential. With Spark, transform panel discussions into articles or use attendee feedback for lists like "Top Questions Asked." Extract key insights from speeches and delve into past event themes. The storytelling possibilities are vast.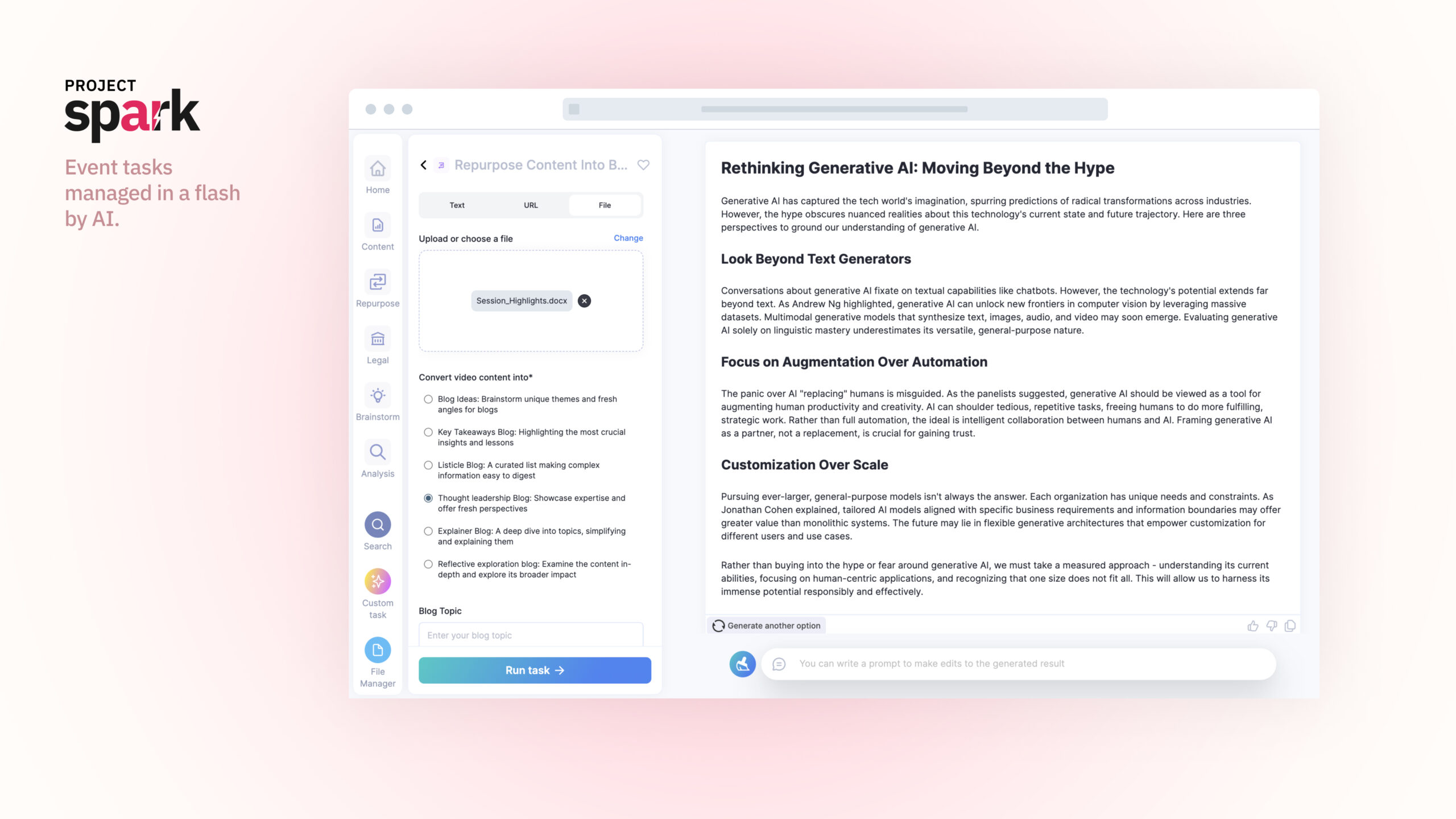 2. Campaigns
Past events are rich with moments perfect for compelling campaigns. Use Spark to craft narratives from event highlights, or turn memorable quotes into PPC ads. Dive in for more tools to shape your campaign stories.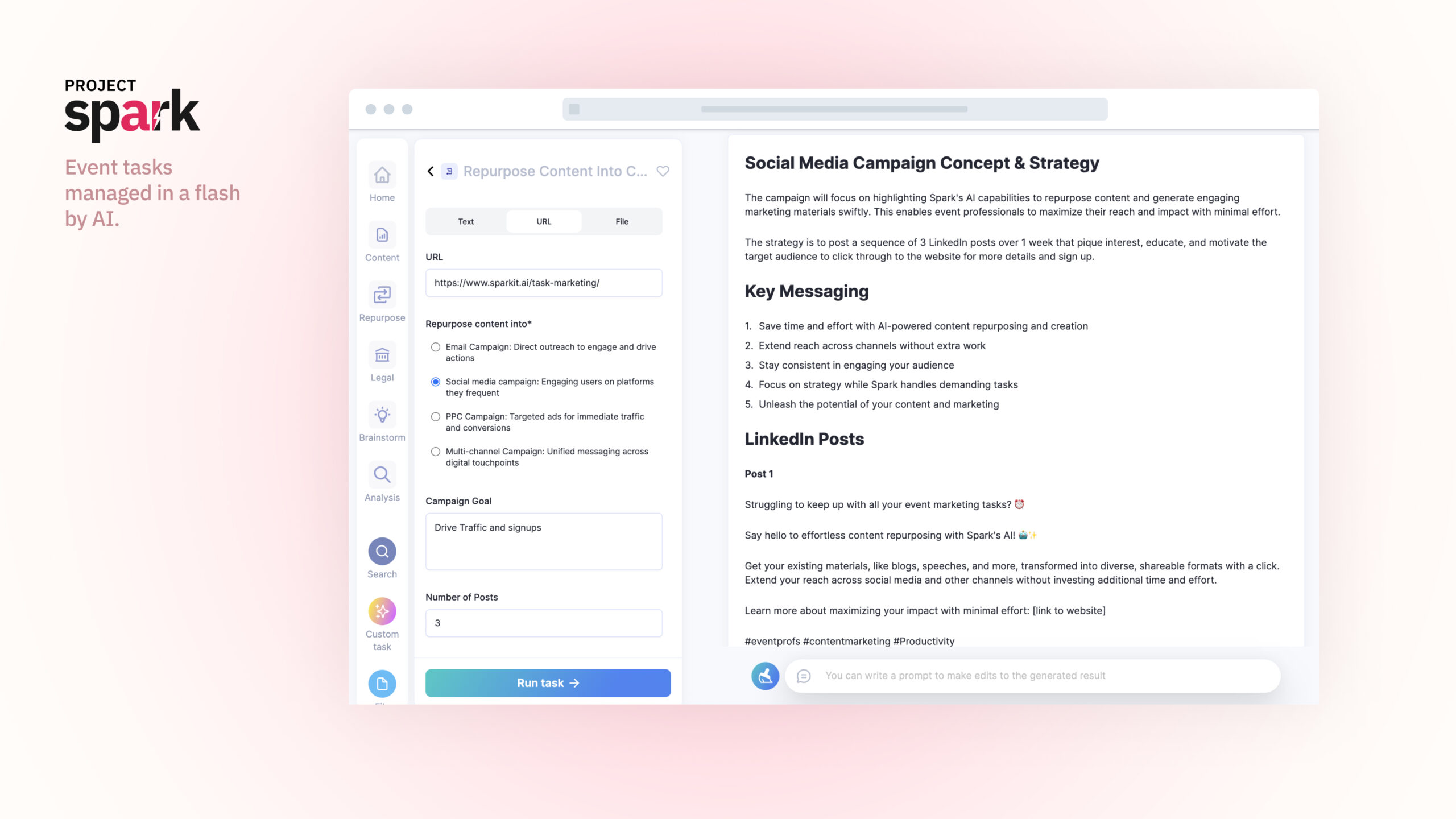 3. Social Media Posts
In today's digital age, concise content is king. With Spark, segment your event into bite-sized pieces ready for social platforms. Share insights on LinkedIn or convert Q&A sessions into tweet threads. More repurposing options await.
4. Educational Content
Events are a treasure trove of knowledge. With Spark, turn this knowledge into educational assets, from transforming workshops into e-books to creating micro-learning courses based on event topics. Dive deeper for more educational opportunities.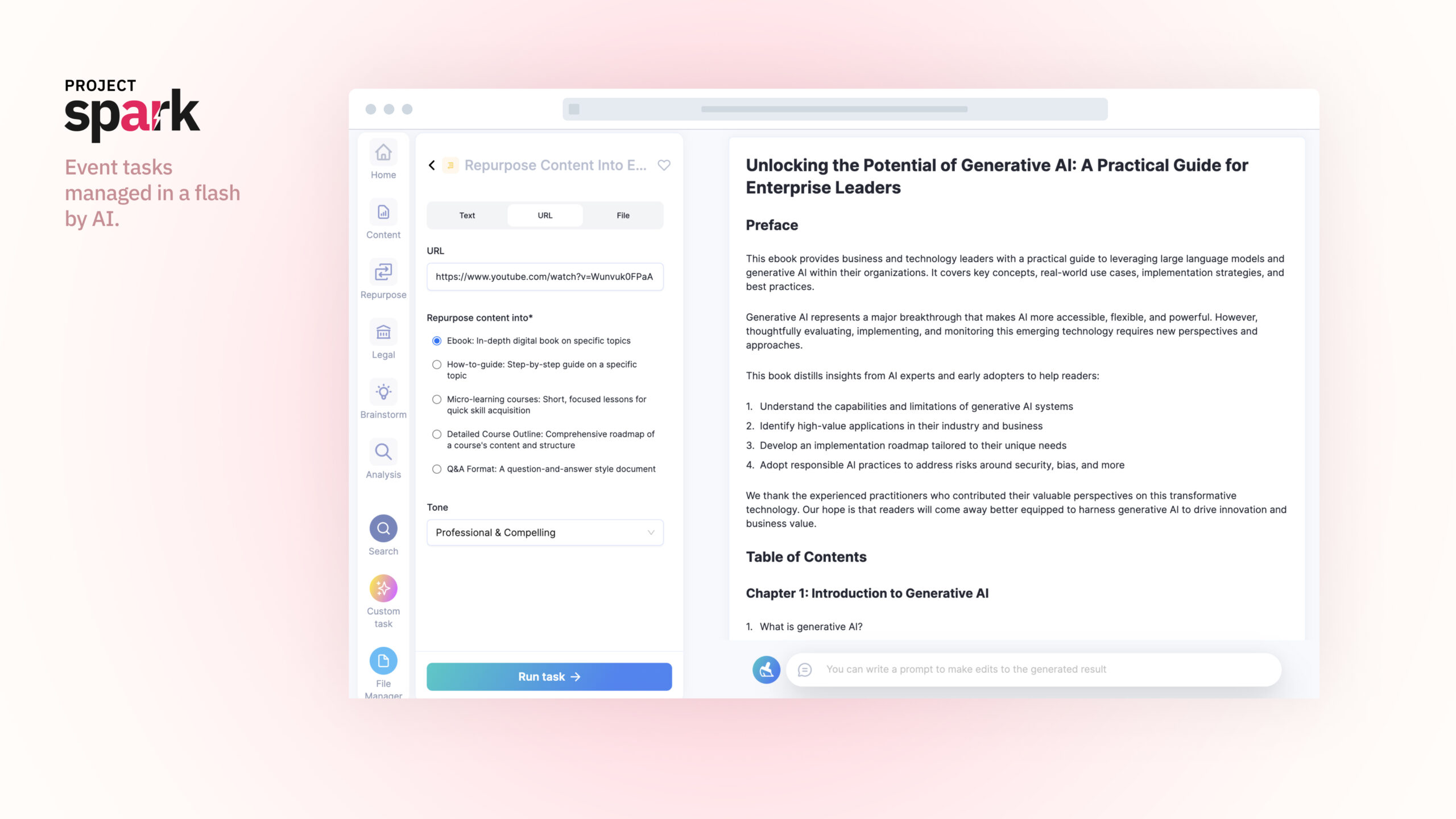 Qualitative Analysis: Harness the Full Power of Your Data
In the event industry, data often comes vast and unstructured. Spark's new qualitative analysis suite is designed to navigate this landscape, revealing actionable insights. With Spark's support for over 30+ file types, here's how you can extract more from your data:
1.
Sentiment Analysis
Every feedback, be it a written note or a voice clip, carries emotion. With Spark, gauge the pulse of your audience's sentiment. Understand reactions to a keynote or compare vibes across breakout sessions. Unearth the emotional undercurrents of your events.
2.
Challenges, Solutions & Actions
From testimonials to chat logs, feedback is gold. Upload them to Spark and distill challenges, praise points, and next steps. Picture a voice note turned into a tangible action plan for your next event.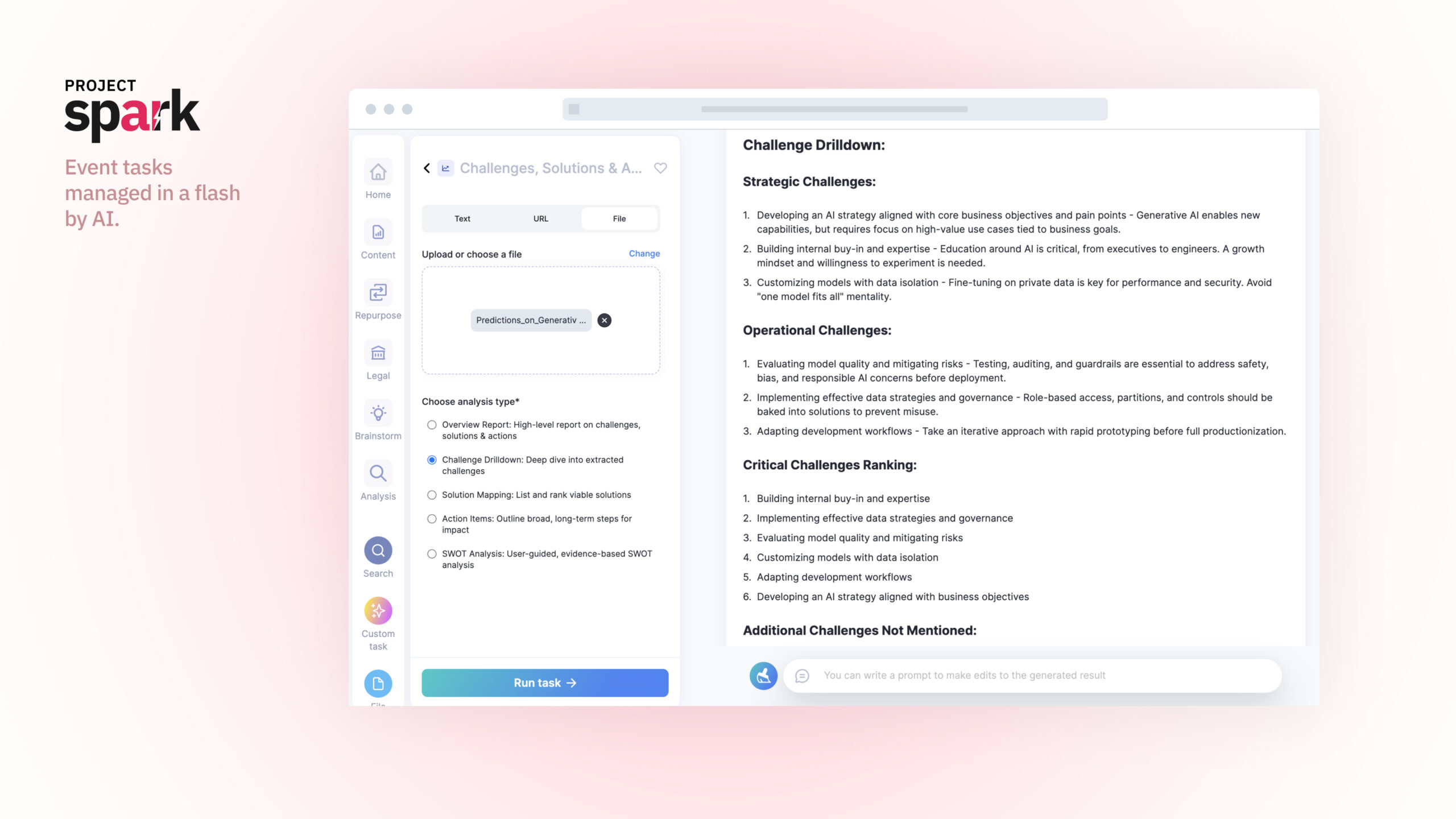 3.
Strategic Insights
Events bubble with discussions and ideas. Feed Spark with transcripts, chat logs, or notes, and get a distilled view of strategic takeaways. Spot trends, identify narratives, and stay ahead.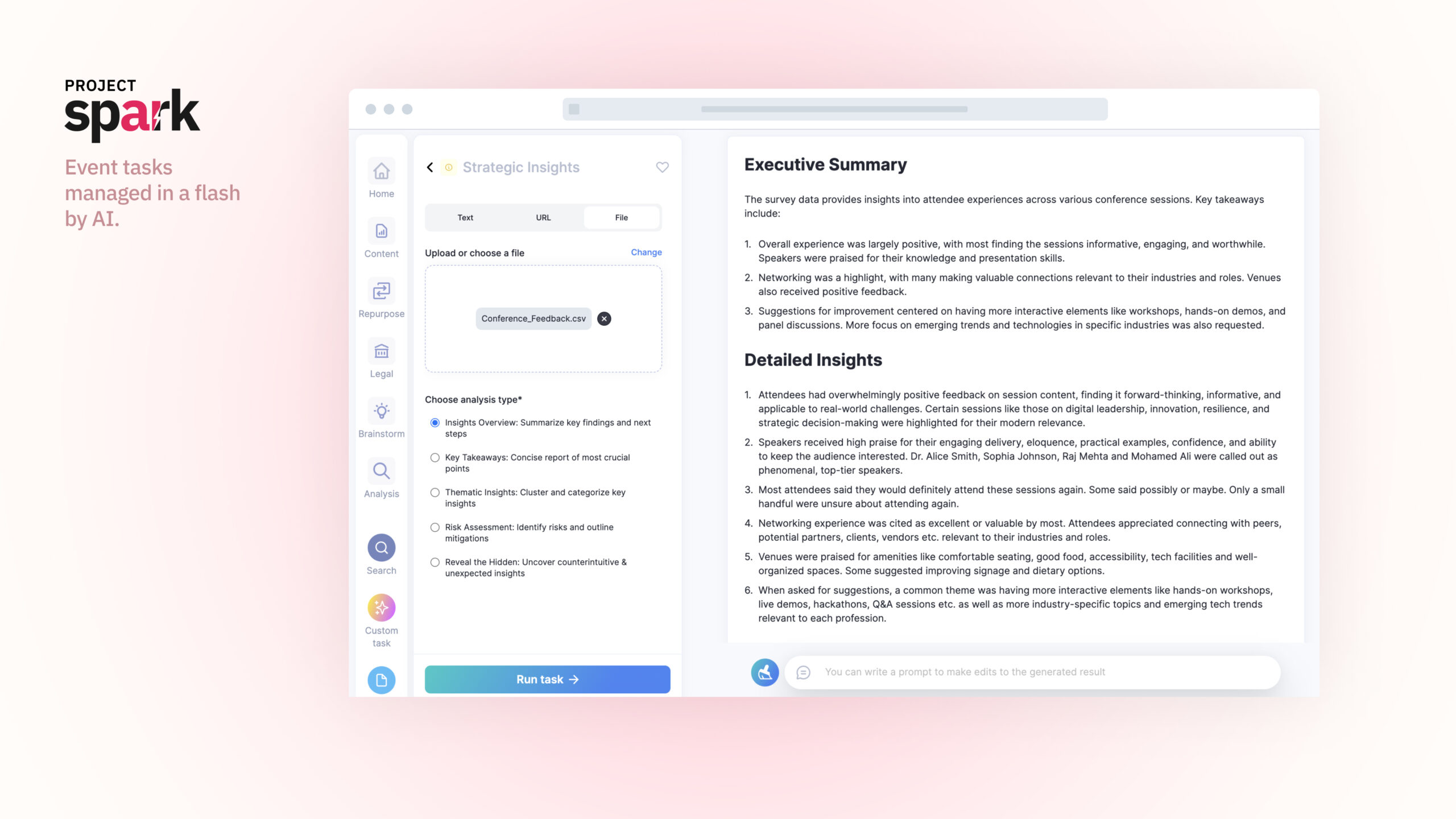 4. Classify Themes
In the vast ocean of event content, themes rise to the surface. With Spark, discover and track these themes across events. Upload brochures or videos, and see how audience interests evolve over time. Navigate the thematic waves with precision.
Reflecting on Our Journey
Your feedback has sculpted our direction. It's transformed our vision of repurposing—from limited video conversions to adapting nearly any content type. Our qualitative analysis tools are set to revolutionize the event community by rapidly deciphering unstructured data.
Today, with Spark Enterprise and Repurpose 2.0's launch, we're making a significant stride. We offer more than an AI tool—we provide a smarter workflow, a strategy to boost your efficiency, and a partner tuned into event management's intricacies.
Stay Sparked!